Overview
Many Threads of Allyship is a short course based on everything we've learnt at TACSI about being good allies.
The course aims to help non-Aboriginal and Torres Strait Islander organisations – especially those engaged in innovation, reform and public policy – to reflect on how to become better allies, in order to further reconciliation, self-determination and change.
Over 2 sessions, hosted by TACSI's Aunty in Residence, Aunty – Vicky Charles and TACSI's Chief Innovation Officer – Chris Vanstone, you'll develop creative and practical strategies for allyship in your work and organisation.
The Many Threads framework is based on TACSIs experiences of supporting not-for-profit organizations, philanthropy and government to be better allies, and TACSIs own organisational experiments.
Learning outcomes
At the end of the course you and your team will be able to answer these questions:
What does it mean to be an ally?
What are the opportunities for our organisation to become a better ally?
Where shall we start?
In parallel with this course we recommend you also engage in training that will build your cultural respect and awareness of privilege. We will can recommend excellent Aboriginal providers to support you with this.
What you get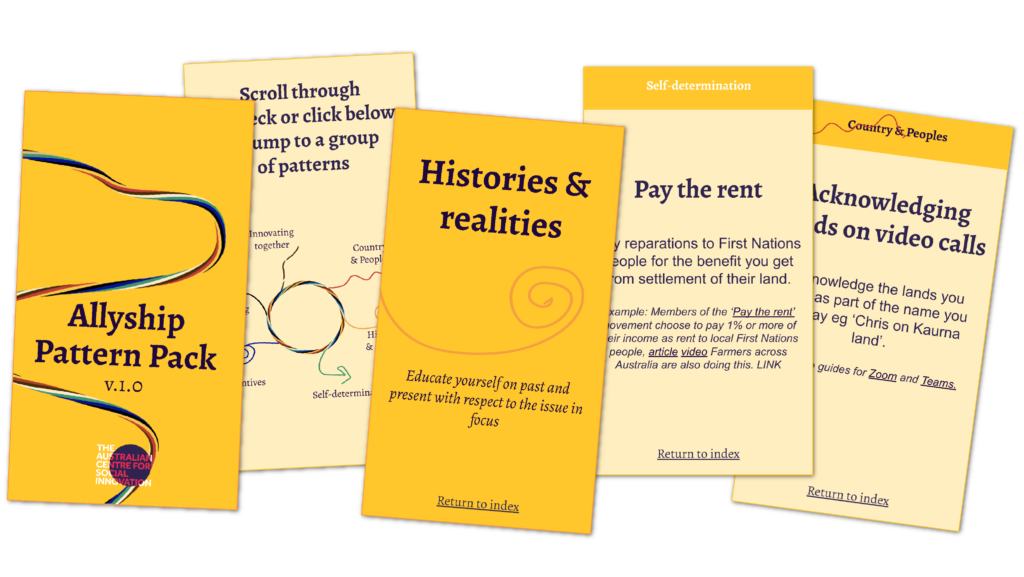 2 x 3hr live sessions for up to 20 people. On zoom or in a room. In these sessions we'll build our understanding of allyship and identify the strategies that best-fit your organisation.

The podcast – TACSI staff reflect on their cultural learning journeys – where they started, where they are now, and what next.

The pattern pack – A cardset of inspirational strategies for allyship.
The coursedeck – Somewhere between a course book and a slide deck the coursedeck summarises the main learning points, frameworks, and visual references, complementing the podcast and live sessions.

Read and watch list – A list of books, articles and videos to extend your learning.
TACSI Academy account – All conveniently served up on the TACSI Academy platform.
Your facilitators
Aunty Vickey Charles
Aunty in Residence, TACSI
Aunty Vickey Charles is an Alawa/Mara woman from the Northern Territory who grew up in Adelaide from the age of 18 months, due to government policy at the time.
She has spent her life raising awareness of Aboriginal Australia through her lived experience and work in government and not-for-profit sectors.
Aunty Vickey has led TACSI on our cultural learning journey, to become a more culturally competent and culturally safe organisation. Her work includes taking new-starters through a cultural induction, developing the Cultural Canvas that ensures TACSI projects begin grounded in the cultural context, and playing a key role in TACSI developing a Reconciliation Action Plan.
Chris Vanstone
Chief Innovation Officer, TACSI
Chris started his career designing biscuits and razors before transitioning into social innovation over 20 years ago.
As TACSI's CIO, he's responsible for keeping TACSI at the cutting edge of social innovation, playing a big role in the development of our practice, major initiatives and strategy.
Chris' goal is to democratise social innovation. He's always striving to get important concepts into the world in ways that are clear.
Sample materials
Listen to the first episode of the Allyship Stories podcast here
Acknowledgement
We wish to acknowledge the knowledge that has been shared by First Nations practitioners, writers and thinkers that is woven throughout this course.
Timing, pricing and availability
Many Threads of Allyship is available now for organisations.
The time commitment for participants is one hour podcast listening, followed by two 3hr live sessions delivered online over two days (or in person). You'll leave with practical strategies for allyship in your organisation.
The pricing is $7,000 for an online course of up to 20 people, with additional costs for in-person workshops delivered outside of Adelaide.
If you are interested in participating in a network, or funding one, enquire below.