Overview
Resources for non-Aboriginal and Torres Strait Islander people and organisations interested in being better allies to First Nations people. These are all built on what TACSI has learnt about being a good ally through our work.
Many Threads Prompt Book
A framework and practical prompts to help non-Aboriginal and Torres Strait Islander organisations engage First Nations Peoples and foreground First Nations' wisdom, so that together, we can further reconciliation, self-determination and change.
An editable version of the document is available for download here and is licensed under Attribution 4.0 International
Yarn about co-design and self-determination
Listen to Aunty Vickey (TACSI's Aunty in Residence) and Dana Shen (former TACSI Director) give an Aboriginal Perspective on Co-design and Self-determination
Allyship Pattern Pack
An incomplete set of re-usable patterns for allyship.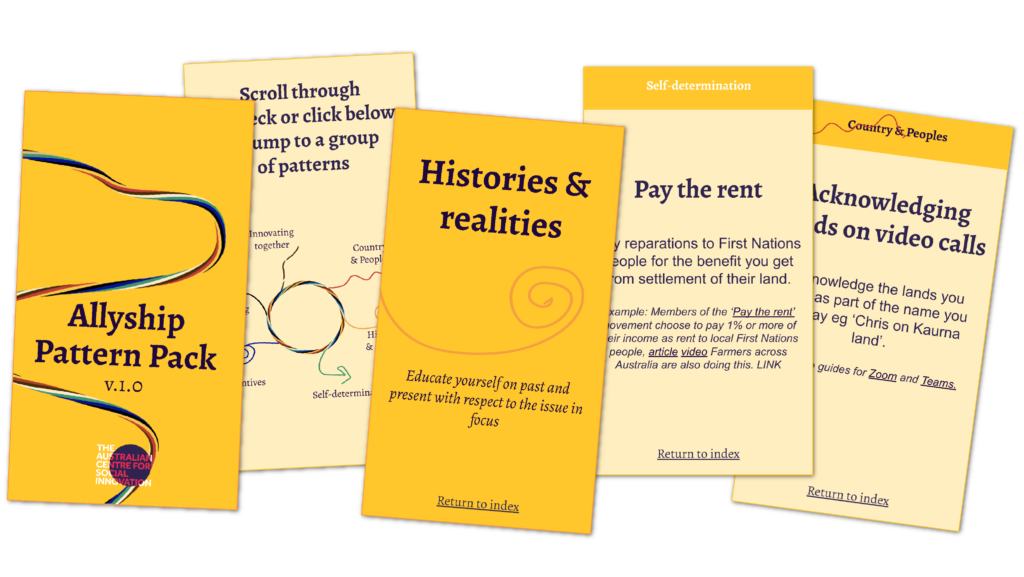 Continue your learning
If your team wants to learn more about allyship consider the Many Threads of Allyship short course.